Welcome to the Triumph Owners Motor Cycle Club (TOMCC NZ Inc) of New Zealand.
We are a club that embraces owners of Triumph motorcycles and their familes, whether their Triumphs were made in Meriden or Hinckley factories, and we welcome all motorcycle enthusiasts at our events.
Visit our facebook page https://www.facebook.com/tomccnz
To find out more about our club and its chapters, plus its objectives and origins, click on about us.
.
Coming up …
.
.
23-25 October 2021
.
Otago Southland Haast's Eagle Ride & Search
For more information about the above event, please click here.
.
18-20 February 2022
.
TOMCC NZ Inc National Rally – Clark's Beach, Auckland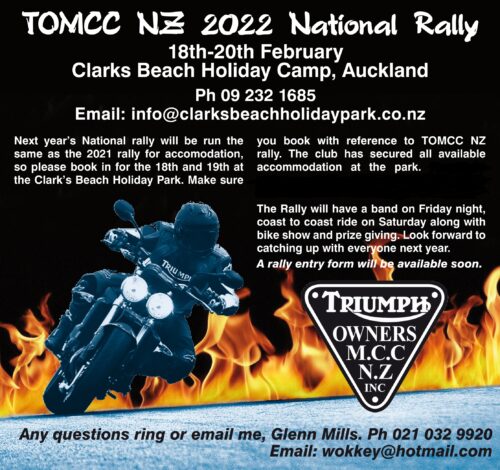 To view and download the rally registration form, please click here.
For more information, please click here.
.
.